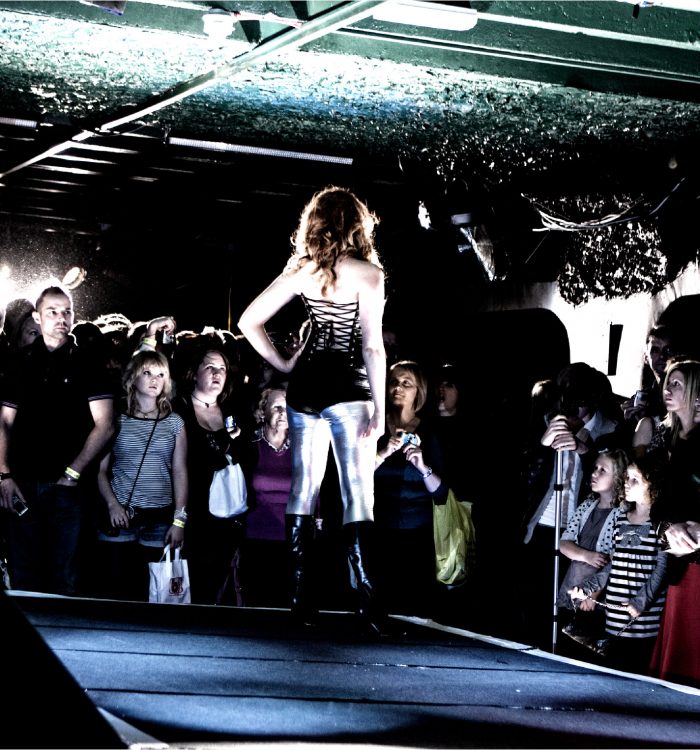 About
The Bang Story
Bang was established in 2007, by husband and wife team Jon and Sarah Cotton, in a small corner shop premises on the outskirts of York centre.
Within the first year of business, Bang had gained a solid reputation as THE place to go in York for creative hairdressing, achieving the accolade of Official Hairdressers to Miss England and landing the front cover of Yorkshire Living Magazine with their first photographic collection. The salon was renowned for it's quirky decor, jukebox and a rebellious attitude towards what a salon vibe should feel like. Bang celebrated their first birthday with a Fashion Rocks style catwalk show to a crowd of 300+ guests at York's Duchess live music venue (pictured above).
At the very core of the business, however, was a passion for education in hairdressing standards and Bang attracted creative young stylists who craved knowledge and wanted to be the very best in their field. Over the years, Bang has trained many talented stylists who have jointly achieved over 30 industry awards and accolades.
In 2011, the business outgrew it's Gillygate premises and relocated to the flagship 2-storey salon on York's prestigious Low Petergate, which the business still occupies in the city centre. From here, the Bang brand grew from strength to strength and gained national recognition in several awards for creative hairdressing and customer service. Bang also continued to cement their place in the York community, working on various collaborative projects with local businesses and charities.
In 2015, Bang expanded further, occupying another space in the desirable district of Bishy Rd. Shortly after Bang landed on the street, Bishy Rd won the title of 'Great British High Street Of The Year' thanks to a passionate traders' association with a rich tapestry of independent coffee shops, restaurants, local shopping outlets and home-based micro businesses.
Bang now enjoys the reputation of being a premium hairdressing destination in York with an internationally recognised brand and a 20+ strong team of exceptionally passionate, dedicated and creative individuals that we are privileged to call Bangsters.
Founders
Sarah Cotton
Sarah's career in hairdressing spans over 30 successful years, with a strong foundation in education and art direction for Toni & Guy salons across the North of England. Sarah's passion for education is the very driving force behind the Bang Vision.
Jon Cotton
Jon's background as a fashion photographer and artistic director has helped place the Bang brand amongst the cream of the industry, attracting global interest with stand-out imagery and creative campaigns.
The Attitude
I N S P I R E  /  C R E A T E  /  I N N O V A T E  /  E D U C A T E
What people say
I love coming to Bang and wouldn't dream of getting my haircut anywhere else. Sarah has cut my hair for well over a decade and I've never walked out feeling anything but amazing! The team at Bang are artists and I always get asked where I get my hair cut!
Kerry
My hair was cut by Tim. He is absolutely a master stylist, focused and professional, takes pride in his work. The salon is friendly and comfortable, and all the staff are welcoming. Probably the best salon in York (as Carlsberg might say)
Lindsay
Brilliant service every time from the lovely Bang crew!
Gary
The team in Bang are always lovely and do a brilliant job. I have been going to them for years and wouldn't ever go to another salon!
Sarah
Had the best salon experience with Soami! She is a genius and completely transformed my hair exactly how I wanted. Best salon in York!
Beth
Great customer service, lovely aesthetic and love my new look!
Holly